10 Felicitous nail Lunar New Year 2022 art ideas to sport during house visits
You are choosing nail designs for the Lunar New Year. 10 Design suggestions for this important day. 10 Felicitous nail Lunar New Year 2022.
You are choosing nail designs for the Lunar New Year. 10 Design suggestions for this important day. 10 Felicitous nail Lunar New Year 2022.
Exceptional threads? Check. Enviable locks? Check. Now, all that's left to do is complete the ensemble with a set of polished, pretty talons
The time has come where public venues have begun the slow yet inexorable transition from Christmas tunes to Chinese pop.
This, if anything, serves as a timely tip-off: Lunar New Year is upon us. As you commence your preparations to look and feel your best, be sure not to neglect your precious digits.
10 Felicitous nail Lunar New Year 2022 art

After all, they will be in full view as you snack upon a bevy of artisanal goodies and when you receive (or issue) red packets.
Bearing this in mind, we've assembled several inspired nail looks to try this season ranging from intricate tiger motifs to colour combinations. See them all, below.
1 Abstract French tips
For those who prefer a subtle approach, try this unique take on a classic French mani. The best part is that it is simple enough to attempt at home should you have a steady hand—and would rather dodge those hefty CNY surcharges.
2 Drip nails with depth
Add dimension to your nails by layering two similar shades over one another in an eye-catching pattern. This ripple design is sure to turn heads.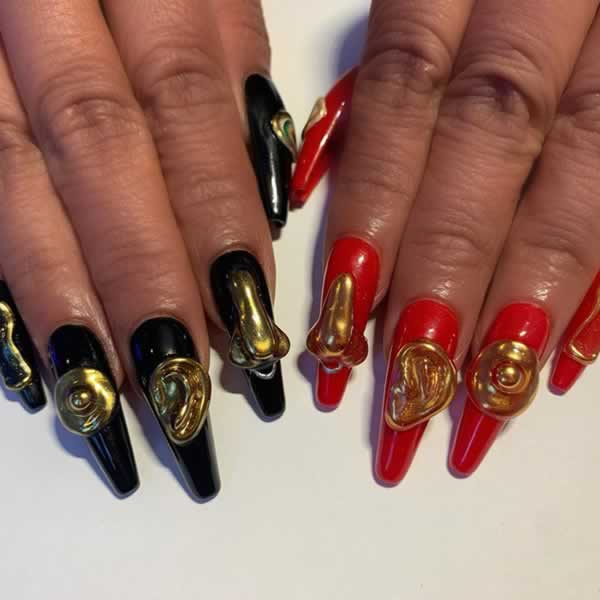 3 Talons with a sartorial twist
These ones are inspired by Italian fashion house, Schiaparelli, and (coincidentally) comes in prosperous red and gold hues befitting for CNY.
4 Symbols of wealth and prosperity
An ancient Chinese proverb dictates that goldfish represent wealth and abundance—so why not take it literally by having one painted onto your nails?
5 A walk on the wild side
You can't go wrong with stripes in the year of the tiger. Swap out the orange base hue for an equally electrifying shade to keep things interesting.
6 Keep things zen
If family reunions prove to be a tricky affair, be sure to leave some reminders to stay calm close by. In this case, why not have them on your nails?
7 In full bloom
Individuals that are pressed for time are sure to appreciate the convenience of nail wraps. Particularly if they're appropriately CNY-themed—these by Nail Wrap Co. come with plum blossoms for an extra festive touch.
8 Minimalist at heart
A classy marble-print design accentuated with hints of gold exudes a timeless aesthetic. To sum it up: A manicure that you'll able to sport for CNY and beyond.
9 Transition shades
You still can score some huat even if red's not your colour. Instead, go with a gradient design that showcases shades of pink that bleed into a light carmine.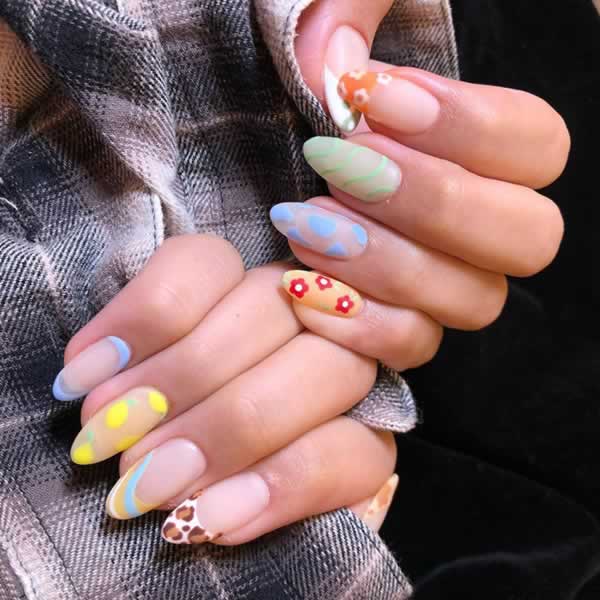 10 One-of-a-kind designs for every nail
And for the perpetually indecisive lot, we recommend different elements and patterns for each nail. This set by @yessanails modernises tried-and-tested motifs such as flowers and stripes by portraying them in unconventional colours. Pro tip: Earn extra brownies points with traditional relatives by swapping out the lemons for oranges, and the cheetah print for tiger stripes.
BY EMILY HENG 28 JANUARY 2022